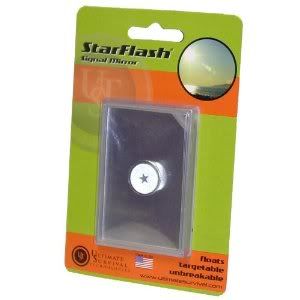 A good signal mirror is just as much of a must to have in your bug out bag or disaster kit as a good whistle is. I am sure you are probably thinking, "Yeah, I am sure there is an old make-up compact or something around here that I can use for a signal mirror. Heck, my watch has the ability to annoy people on a sunny day, what do I need a signal mirror for?" Does a make-up compact float? Can your watch cast a reflection at night with a full moon or a street light? Are both of them unbreakable? In fact, can you even aim either one of them with any kind of accuracy?
That is where the Starflash signal mirror comes in.  This thing is small and lightweight.  It floats and is so easy to aim it is amazing.  You can aim the Starflash signal mirror with pinpoint accuracy because it has a hole in the center that you put up to your eye.  You then will see a little holographic image of the sun that you just place on the person or object that you want to signal and they will see it.  This mirror can be seen from over 100 miles away!  100 miles?!  I work about 50 miles from where I live and I can't imagine being able to signal that far with a 2″ by 3″ mirror, much less twice that far!
Just check out this quick little video from the people that make it.   It is pretty convincing.
You can pick up a Starflash mirror at Amazon
for about $10 and you should.  It is well worth it and will complement that Storm Whistle nicely!