By Dale Pocat (D-Poc)
Tactical Multi-Tools are different than your average swiss army knife. There are several companies out there that are manufacturing these, Gerber, SOG, and Leatherman being the biggest players. These tools are designed for that person that needs a compact tool kit for that tactical advantage be they military, law enforcement, or civilian.
Oddly enough, multi tools have been with us for a very long time. Most people believe that they didn't arrive on the scene until Karl Eisner invented the Swiss Army Knife in 1891, however, an early one known to exist was built by a clever Roman over two thousand years ago. It currently resides in a museum in Cambridge, England.
Multi-tools have come a long way since then in function and materials. Where that long ago multi-tool was primarily used for food, a modern day tacti-tool is used for everything from crimping blasting caps and clearing a weapon jam to opening rations and trimming your finger nails.
Here I'm going to show you some of the more popular designs and point out some good and bad points along the way. Hopefully, this will give you enough information so that you can make an informed decision when choosing the right one for your specific needs.
---
LEATHERMAN MUT
Leatherman makes the MUT
and the MUT EOD
. The biggest difference is that the EOD has a crimper for blasting caps, a C4 explosives punch tool, and fuse cutters. However, to get those you give up the standard plier jaws, the firearm disassembly punch, and the wire cutters and hard wire cutters.
Unless you have a specific need for the EOD I wouldn't bother with it, but… if you think you MIGHT have a need for it this multi-tool is somewhat customizable. You could buy the EOD model and get the MUT accessory kit from Leatherman and change out the EOD specific tools and have a standard MUT. The only thing you wouldn't be able to change out would be the blasting cap crimper so you would lose the standard plier jaws.
If you're looking for something all inclusive, the M-Pro 7 small arms cleaning kit
is a complete cleaning kit you can get that comes with a Leatherman MUT EOD. Someone that bought it didn't like the EOD and actually went through the steps to change out the parts and make it a regular MUT so it has been done before.
This is a large multi tool and is an excellent companion if you have an AR-15. It does many things well from the bronze carbon scraper getting into those hard to reach areas to clean out those carbon deposits to the threaded male and female adapters that accept all kinds of Cleaning Tools
.
It also comes with a separate wrench for the optics on your weapon. Probably the single most impressive thing is the bolt overide tool. You use it to clear a jammed bolt by dropping the magazine and inserting the bolt overide tool into the bolt and pulling back sharply.
The combo blade and the saw have their normal Leatherman liner locks and the other tools lock into the bit holder. You have to squeeze the bit holder to get bits in and out and sometimes it can be a little tricky because it doesn't want to let go, but for the most part the bits feel secure. The bronze scraper only has a pressure lock to hold it into place but that is more than adequate to get the job done. The reason it is made of bronze is so that it won't scratch up your firearm.
If you need to cut wire it's got a great set of heavy duty wire cutters and there is a V-cutter for cutting paracord, tie wraps, string and anything else you can think of. The great thing about these cutters is that they are all replaceable. I only wish they were like the Gerber MP-600ST so that you could rotate to a fresh edge.
I read a review where a soldier actually broke the hammer portion of his MUT when he used it. Leatherman replaced it right away and all he did was send them a picture of it. But I saw another review that showed the hammer had a slight bow in it. I don't know if that was from the heat treat or if it was just made that way but I know it's not normal. The one I have is perfect, no bow at all.
There are several ways of securing the Leatherman Mut. One is the built in caribiner that doubles as a bottle opener, next is the pocket clip, another is the sheath, and finally you can even attach a lanyard to it. The sheath is an excellent molle compatible sheath and has a pocket on the long molle strap that holds the sight wrench. There is also a small pocket in the front of the sheath that can hold something thin.
One last note on pricing, we bought our MUT with the black oxide finish for about $110 on Amazon because they were the cheapest. The standard MUT in black oxide seems to be the most popular and sells out pretty quickly.
---
GERBER MP600-ST

Gerber makes several different versions of the Multi-Plier 600, but the one I'm going to talk about is the

MP600-ST. The "ST" stands for Sight Tool. A few of the improvements on this version are a longer phillips driver, a combination plain/serrated blade, a carbon scraper, and a sight tool for M4/M16 firearms.
The lengths of the tools are a little short but that's because of the way the head of the pliers slide down into the handles. On previous versions the phillips screwdriver was more of a stubby but they found more real estate on this version and were able to make it longer. You still only need one hand to open the quick deploy pliers and these are currently being made in the USA.
The triangular wire cutter blades are a nice touch, when one edge gets dull you just loosen the screw and turn the triangle to a fresh edge. I'm a big fan of instant spares. This version also has a carbon scraper and a front sight tool bit which is held on to the driver by a magnet. You can get an accessory kit from Gerber to use this driver with other bits.
The pliers are still slightly loose and kind of rattle in the handle but that's just the nature of the beast with all the MP-600's that I've come across. One guy likened it to an AK-47, you can drag them through the mud and the quick deploy feature will still work just like an AK will still fire. Another nice feature is that all the tools lock in place.
One thing about this tacti-tool is the fact that it feels cheaper than it's competitors but that may not be a downside. Every set I've seen has been used and abused and they are still holding up. Unlike a brand new knife you paid way too much money for that you don't want to use because it might get scratched, guys don't mind beating the bejeezes out of this multi-tool. It gets very good reviews even though the next thing the reviewer usually says is "Well, it's not as nice as my leatherman."
Just so you know, Gerber also has their version of an all inclusive cleaning kit. It is the Gerber 22-01105 Gun Cleaning Kit
but be aware that it comes with a standard MP-600, NOT the MP-600ST.
---
GERBER eFECT

This is not a multi-tool in the classic sense and I'm not going to dwell on it much, but I thought I would include it here because it gets such great reviews. The
Gerber eFECT has all the tools you need to clean your AR15/M16/M4 weapon. It is compatible with the Otis Brass Scraper Set
for even more versatility and it also has a sight adjustment tool. You may want to check this out if you already have a great multi-tool but need something for your AR-15.
---
SOG POWER ASSIST B66
I chose the Power Assist B66
over the Power Assist B67

because the B67 is the EOD model and about the only advantage you get with the EOD is the C4 punch.
This is a very well thought out tool and is probably tied for second place with the Gerber in this category with the Leatherman MUT being in first place. If this tool had more functionality for working on a weapon it would have given the MUT a run for it's money.
Both the knife blade and the serrated blade are spring assisted for lightning fast opening. Each blade also has double locks. One you can use to make sure it doesn't come open and the other that engages when the blade opens to keep it from closing on your hand.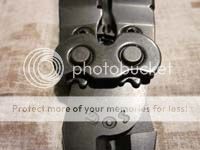 It also has SOG's patented Compound Leverage Gears that gives the pliers a much stronger bite than it's competitors. If you look around on the internet you can find videos of people cutting pennies and quarters with the cutters in the needlenose pliers, and before you ask, Yes. I couldn't resist and tried it myself. It cuts like butter.
I love the fact that you can change out tools on this multi-tool to fit your needs. Again, you'll have to get them from SOG but you can pretty much customize this multi-tool however you want which really makes it unique.
A couple of things I don't like are the fact that the cutters on the pliers are not replaceable and the double locks can get confusing. Specifically the ones that keep the blades from opening, I can't ever tell which position they need to be in to keep them locked and the letters for "on" and "off" are so small that I'm starting to believe the people that tell me I need to get glasses.
The locking system for each of the individual tools is innovative. Each tool has it's own lock that almost looks like piano keys. However, you have to pay attention and make sure it locks in place because it can be a little tough getting the lock to engage.
The sheath leaves a lot to be desired. It's just a basic nylon sheath with a plastic belt clip that's going to snap off the first time you catch it on the seat belt in your car. You can get a better sheath from SOG for it and I highly recommend it.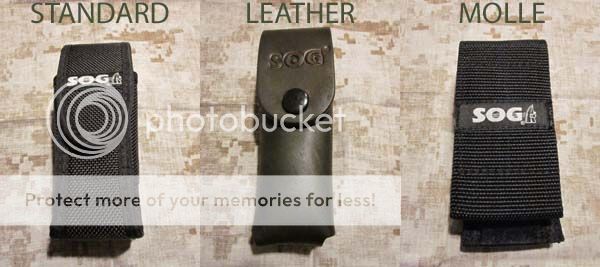 There are two other options for the sheath, a leather one and a molle compatible one. The folks at SOG were nice enough to send them both to me so that I could check them out and either one of these are a much better option than the one it comes with. Go with the leather one if you're only going to wear this on your belt, otherwise go with the molle compatible one if you want to be able to attach it to a Bug-Out-Bag or vest or anything else with molle attachments for that matter. The Molle sheath is my favorite and that's the one I'm sticking with.
---
MULTITASKER SERIES 2X

These are sold by Brownells and currently on backorder so I wasn't able to get one for this review. From what I've read, it seems that this was the first multi tool specifically designed for weapon maintenance/repair. The reviews I've read have for the most part all been positive and several are from military personel with real world experience. When they get some in stock look for an update to this page.
I can't say anything bad about the customer service for any of these companies. SOG was nice enough to send me the sheaths and I got them the next day. Gerber was great at answering all of my questions, and although I didn't have any direct contact with Leatherman, the story above about the broken hammer pretty much says it all.
No matter which manufacturer you go with you just can't go wrong with any of these multi-tools. They are all well made and I've found everyone from military personel to civilians giving all of these tools excellent marks including the multitasker that I can't get.
I'm already working on my next article about Survival Multi-Tools so check back soon!