First and foremost, I am not a medical professional. I am just trying to get the average Joe to think a little more about first aid than he/she already does. You don't have to be a surgeon to be able to help someone with first aid, but you should know how to use the different items you have in your pack. You should also know some basic first aid skills so that you can get a better idea of what you should pack.
There are lots of places to get first aid training, but if nothing else I have found some online courses for getting certified. You can watch the videos on most of these without having to buy the cert. If you are like I was, not knowing anything about first aid, any reputable information is better than none.
The focus of 72hoursurvival.com is to survive for 3 days without emergency response help. So you don't have to be a doctor, you just need to be able to have the basic skills and supplies to survive long enough to see one.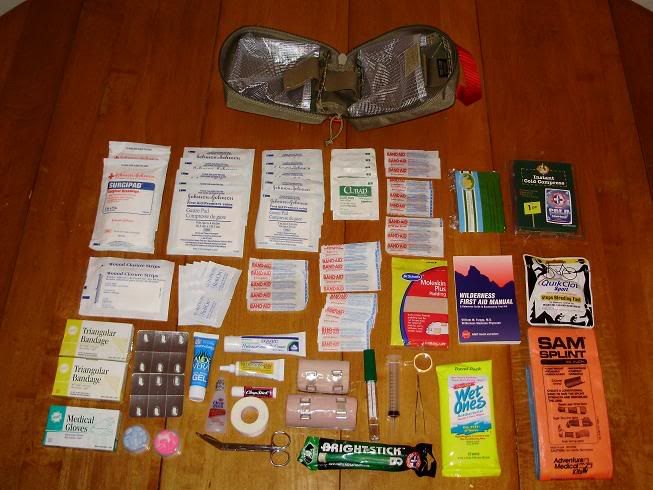 I carry a Maxpedition F.I.G.H.T Pouch
on my Vulture II bug out bag. Obviously you have to buy the contents separate, but the bag has MOLLE attachments to attach to my bug out bag. One great feature about this pouch is that it is connected to the MOLLE attachment part with velcro and a quick release buckle and snap. So, if you have it attached to your bug out bag and need quick access to it, you can release the strap and rip it off the velcro and you have your F.I.G.H.T pouch in your hand ready to go.
You would be surprised out how much you can carry in it. All of the stuff in this picture is packed in my F.I.G.H.T pouch. Granted, it is stuffed, but it is all in there. The only thing not pictured is the aspirin but it fits in there in a small container as well. I feel like this is a good first aid kit for a 3 day survival situation. I will say that the thing that probably takes up the most space in this kit is the SAM Splint
. I opted for the 36 inch because you can cut it down to size if you need to. You can buy smaller SAM splints though.
One thing that I don't have pictured here (since I haven't done it yet, but I am going to as soon as I finish writing this), is a card with a list of expiration dates of all the medications. This way, when you go to check your bug out bag (which you should do probably twice a year…I do it when I change the clocks forward or back), you can easily reference the card and not have to unpack the kit.
Sometimes you can pick up a first aid kit that is packed with a lot of good stuff, but I personally believe you should build your own. This way, you pack stuff that you know how to use, and you know exactly what is in your kit. Be sure and join our email list and get a copy of The Everyman's First Aid Kit for free and learn what the Red Cross advises to be in every first aid kit.