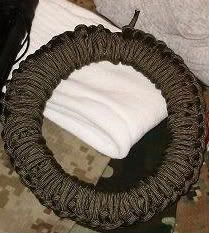 Mil spec 550 paracord is the equivalent of duct tape when it comes to its durability and usefulness. You almost can't have too much paracord. There are some things you need to know when purchasing it for your bug out bag, however.
550 paracord originally was used as parachute cord for paratroopers in WW2. It quickly caught on as a very useful tool in fixing all kinds of things (including the Hubble Space Telescope). It was originally just produced for the military but not long after WW2 it started being produced for civilians. But, as all things, some manufacturers go the cheaper route and try to capitalize on the same market, so be sure you are getting mil spec 550 paracord.
The 550 comes from its breaking strength. It takes a minimum of 550 pounds to break mil spec 550 paracord (designation MIL-C-5040H Type III). It is a cord made up of a nylon sheath wrapped around 7 strands of 2-ply yarns. It is mildew resistant and dries quickly when wet. The sheath itself is rated at a little over 300 pounds and each of the seven strands is rated at 35 pounds (actually, each strand is made up of a twisted pair of yarns rated at 17.5 pounds each). You can see how a length of paracord is multi-functional. You could cut off a length of paracord, pull out its inner strands and use them for anything from thread for repairs, to fishing line or trip wires, and still use the nylon sheath for whatever you would normally use paracord for as long as you take into account the lower breaking strength from the missing strands.
There are a lot of knock-offs out there, but the main thing you need to check is that the paracord you are getting is rated at 550 lbs with 7 inner strands. I have read about tests being done on these and the mil spec 550 paracord wins but usually has a breaking strength of over 650 lbs whereas the knock-offs tend to have a breaking strength more around 600 – 625 lbs. You can see that in either case, it is over the minimum 550 lbs so in my book, even the knock offs can be fine.
There are lots of cool and innovative ways to keep your paracord handy as well. One of the most common is by making a survival bracelet. It looks really cool, is easy to make, and allows you to have about 6 feet (depending on your wrist size) of paracord on you at all times. If you really want to have a lot of paracord on hand, you can make a paracord belt. Depending on your waist size you can get almost 100′ of paracord into a belt! You can also make keychains, zipper pulls, and lanyards. There is almost no end to what you can weave with paracord. I've even seen people make carry cases for their cell phones that attach to their belt. And in every case, there is a sizable amount of paracord that can be unwoven for use at any time. You should get some paracord
for your bug out bag asap if you don't already have some.
This stuff is awesome. If you are the type of person that always has to have a roll of duct tape handy, then you should have a bunch of paracord handy as well. As far as bug out bag use is concerned, I pack at least one color that blends in to the surroundings in case I need it to be a little camouflaged and one color that is easily seen like a neon orange. I learned this the hard way by tripping over my own lashings and practically clothes-lining myself in camp! The bright orange is a little easier to see!