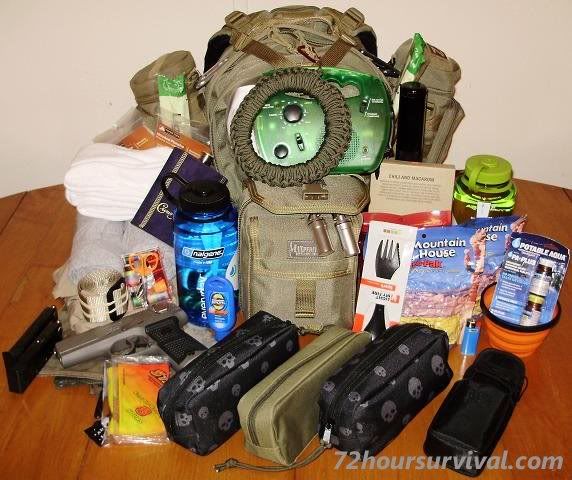 Some people ask me, "Why a 72 hour bug out bag?  Why not a week, or just a few hours?"  Well, the reason is this:  In a disaster scenario, like a flood, tornado, hurricane, or earthquake, first responders are likely going to be completely overloaded with large fires, collapses, etc. of large commercial buildings or heavy traffic downtown areas.  It is highly possible you will have to fend for yourself for a minimum of 3 days.  So the idea is to have enough stuff to keep yourself alive for 3 days and give you the necessary time and possibly tools to get what you need to survive longer if need be.  It would be pretty cumbersome to have to carry around enough stuff to survive for a week or more when all you really need to do is survive long enough to find more water or food.  Remember, in a disaster, you are going to have to rely on yourself and your family to stay alive, you can't just wait around for emergency personnel to come do it for you…you may be dead before they can get there.
When we first conceived 72hoursurvival.com, we figured one of the first things we would do is build a bug out bag and then put up a page on how we did it.  Holy smokes did that turn out to be a big ordeal!  As you can probably tell, most of the site has been about guns & ammo, and knives.  Well, that is because building a survival bag has turned out to be a lot more in depth than we thought it was.  The amount of research that has gone into it is kinda staggering considering we have pesky full-time jobs that get in the way of our preparations!  That being said, I am going to write this article now to share what research we have already done so that you don't have to go through the same pains we did!  Hopefully you will find this information useful, but remember…this is NOT a blueprint!  Everyone's situations are different and your bag will most definitely be different than the next guy's, so keep that in mind.  Also, I will talk about a lot of different options so don't expect to fill your bag with everything I mention here.  It would probably take a truck anyway!
So in this article I am going to try and give you a good idea on where to start and how to get a bug out bag together.  But again, there is not a "one size fits all" survival bag.  It really needs to be tailored to you or your family's particular needs.  You should also consider your surroundings as well.  I am in the country so if I need to leave without a vehicle, I may need to take poison ivy into account.  If you are in the city, poison ivy may not be as important.  That is just an example, but you get my meaning.
The most important things to plan for when building a bug out bag, is food, water, shelter, fire, first-aid, and getting rescued.  I will delve into these first and then give you some other ideas you may want to consider if you still have room in your pack.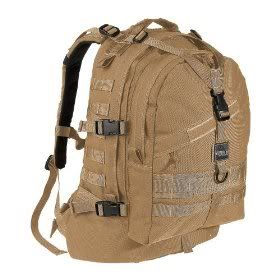 Before you start buying stuff to stock a pack, though, you need a pack! I personally have the Maxpedition Vulture II. It is extremely durable, is really versatile as far as fitting, and has numerous MOLLE attachment points. I highly recommend this bag as a durable, yet affordable bug out bag.
Food
Food is pretty easy to plan for and there are many options out there.  The average adult will need about 2000 calories per day to sustain a moderate level of activity.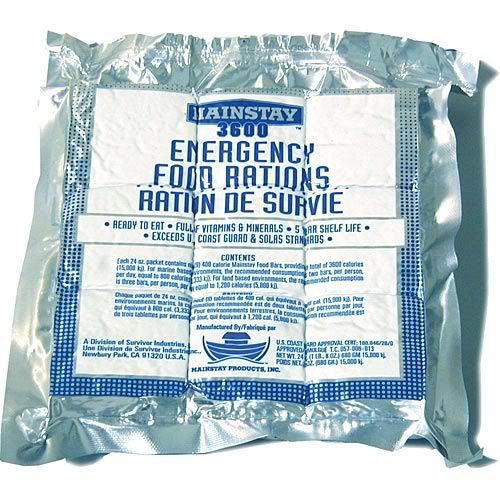 One option for this is Mainstay rations
.  They come in 3600 calorie "bricks" that are segmented out into 9 400 calorie bars.  There are some pros and cons to these like the fact that they can withstand extreme temperatures (i.e. leaving your BoB in your car), meet or exceed daily vitamin and mineral requirements, and are generally not really expensive.  They claim they taste kind of like a lemon cookie, and they don't make you thirsty.  They may not make you thirsty, but good luck getting these things down without some water on hand.  Also, if you pack these, you may want to break up the monotony a little and pack some other type of energy bar or something as the taste of these can wear on you pretty quick.  We are talking about survival, though, not a 4 star meal.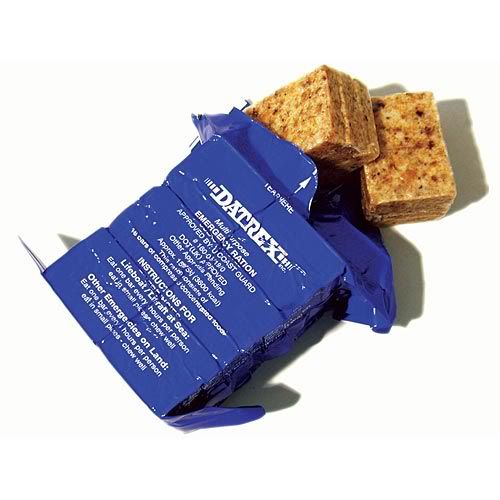 Another option is Datrex bars
.  They are similar to Mainstay except that they tend to taste more like coconut.  Lots of people like these better than Mainstay, but I am not a fan of coconut by any means and prefer the lemony taste of Mainstay better.  They are similar in size, calorie count, and temperature tolerance however, and are great for storing in the car.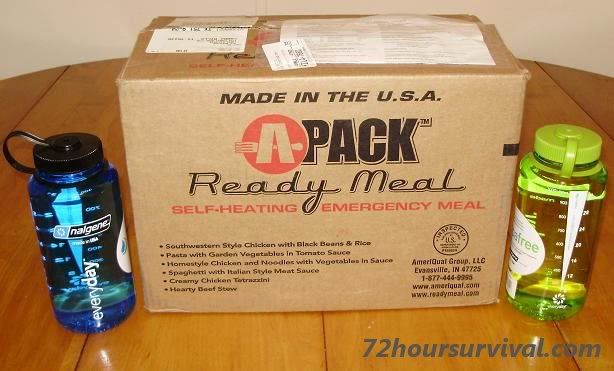 Those are probably the most popular "bar" type rations that you can pack, but there are also more "meal" type rations if you prefer.  For example, you can always pick up a few MREs.  These are commonly used by the military and stand for Meals Ready to Eat.  The drawback is that they take up more room in your pack, and you will likely need at least two MRE's per day per average adult to stay active, but they aren't bad to eat and they make up 100% of your daily nutritional intake according to the FDA.  They usually come with an entrée, a side, snack, drink, desert, and condiments.  There are many different kinds of MRE's to choose from, however, so you can change it up a bit which can go a long way towards trying to be as comfortable as possible.
Another "meal" type ration is the Mountain House Meal
.  These are what I prefer.  I have eaten these and so far I have been really impressed.  You could easily serve these to your family one night without them knowing it and they would think you made a great home-cooked dinner.  As far as calorie count is concerned, the 16 oz chili mac I have in my bug out bag says it is 500 calories so that is probably about average for the 16 oz packs, but it will vary a little.  I have a few of these Mountain House meals in my BoB but not enough for 3 days as I intend to offset it with Mainstay and Datrex bars.  The big drawback to Mountain House meals is that they require water to prepare.  The meals are freeze-dried, so you boil about a cup of water and pour it into the package to re-hydrate.  Not exactly a quick on-the-go meal and can eat into your water supply, but to me it is well worth it for when you settle into a location for the day.
Those are some of the more popular options for food for your bug out bag.  I personally recommend a mixture of ration bars, and meals.  It just makes more sense to me.  The meals are good for when you reach wherever you are going to set up camp for the day and give you something to look forward to, while the bars are good for on-the-go and you just need to take a break and eat before continuing on.
Water
There are two things to keep in mind when thinking about water.  What to keep it in, and how to get it.  Now sure, you can and will pack water with you, but if you run out, you are going to have to get more and that may require some way to treat it for consumption.  Not to mention, water is heavy at about 8 pounds per gallon.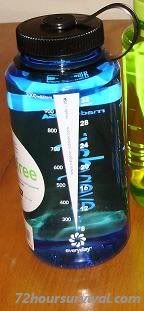 First let's look at containers.  Canteens are cool, but I prefer Nalgene Bottles.
  They are virtually indestructible and they do not retain tastes or smells.  Recently, my brother made a nice stiff rum and coke in a Nalgene bottle (not full, of course, that could have gotten ugly!), and when he was done with it, I cleaned it out and drank water from it.  I could not smell or taste the rum or coke at all.  It was pretty impressive, so I highly recommend them.  Plus, they have measurements on the side so they are good for measuring out liquids.  They can also withstand freezing and boiling temperatures.  That does NOT mean you can boil water in them, it just means you can pour boiling water into them if you so desire.  (Well, you could boil water in them, but you better know what you are doing and do not set the bottle directly over the fire!)  You can really get hooked on Nalgene bottles with all the things you can get for them and use them for.  You can even get a coffee press for a Nalgene bottle!
Another thing to consider is if your survival bag is specifically designed for a water bladder.  If it is, I say get one and put it in it!  Water is the most important commodity you are going to need so the more storage the better.  You aren't going to want to carry around a 5 gallon bucket of water, of course, but a 100 oz water bladder for your bug out bag that is designed for it is a no-brainer.  What I mean is, the bag is designed to allow you to situate the weight of the water as efficiently as possible, so it is probably your best means of water conveyance. 
I am personally looking at a Camelbak Water Bladder
for my main bug out bag.  I have a smaller knock-off hydration pack that I have used but I haven't yet outfitted my bug out bag with one yet.  Survival bags can be an on-going build if you really get into it!  But from all the research I have done on them, the Camelbak water bladders seem to be the most durable and best option.  Plus, they have a large opening for allowing you to clean it out easier.
Now we turn to water purification.  This is extremely important if you have to obtain water on the go.  That stream may look crystal clear, but there is most likely all kinds of bacteria and other nasties in it.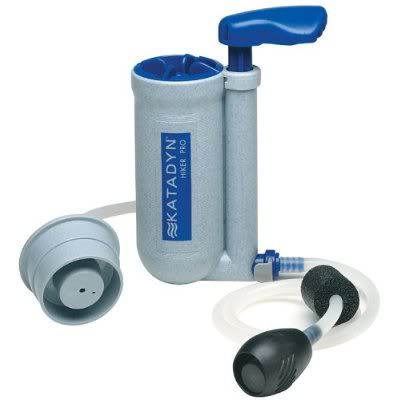 One of the most common filters that I see going into bug out bags is the Katadyn Hiker PRO
.  The output is about a quart a minute and is good for about 200 gallons depending on the water you are filtering.  There are also attachments for Nalgene bottles so that makes this real easy to use and fill up your water bottle.  This has been one of the more popular ways of filtering your water. 
It doesn't hurt to use the water purification tablets like Potable Aqua
or something similar, but even if you use the extra tablets to remove the iodine taste, it still kinda tastes bad.  But in the short term, they do work.
To kill the bacteria and protozoa that gets through a filter, you might want to look at a SteriPEN Adventurer
.  Previously, I would recommend a Miox Purifier but the new SteriPen Adventurer seems to be beating out the Miox in how fast it works and its ease of use. 
You can get one with rechargeable batteries and a solar charging case, but I would just pack extra batteries instead of spending all that money on a charging case.  I haven't used one of these yet, but I am leaning towards getting one for my Bug Out Bag. You will, however, have to filter out any large particulates in the water, so you will probably want a cloth or coffee filter for that.  In a pinch, a bandana is pretty useful.
Fire
Fire is definitely essential.  You need it for staying warm, cooking, boiling water, or even signaling.  Not to mention, if you have to sleep outside, a fire can be very comforting in a stressful situation as it tends to keep animals and bugs away and give you light.  In fact, fire making is so important that I recommend you have at least 2 different ways to make fire in your bug out bag.  One would be the obvious cigarette lighter.  But you would also want a low tech way of making fire as well.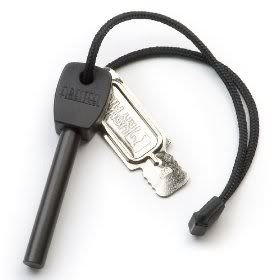 A Swedish Firesteel
is an excellent option for a bug out bag, but please PRACTICE USING IT!  Having one is great, but if you don't know what to do with it you might as well have not bought it!  I keep thinking back to watching Survivor.  I don't remember which one it was, but the teams were given a magnesium/flint fire starter to make fire.  The problem was, nobody knew how to use it!  I guess they just assumed the magnesium part of it was just a handle, so they just kept whacking at the flint until the flint was all gone and they never made a fire.  It was kind of funny, but it just goes to show you…learn how to use your tools!
While writing this, I came across a fire making kit by RAT Cutlery that looks promising.  It apparently makes little molten balls of metal that act as an ember long enough to get your fire going.  This would work a little better than just flint or even flint and magnesium.
So this is pretty straight forward…just pack a couple of options for making fire.  The most important thing here is practice.  Making a fire even with a cigarette lighter can be difficult if you don't know what you are doing.  The term "build a fire" isn't just a collection of words.  "Build" is the operative word.  If you are unsure how to do it, Google it and practice.  It also doesn't hurt to prep some things to aid you in starting a fire.  One thing that I have found is great for starting a fire is dryer lint.  Everybody seems to have tons of dryer lint that you trash on a regular basis.  Stuff a bunch into an empty medicine bottle and you've got a great starter for building a fire.  Another good aid is cotton balls covered in petroleum jelly.  They burn for a pretty good amount of time…usually enough to get your kindling going.  There are tons of ideas for this, but these are just a couple to get you thinking.
Shelter
Shelter is another important thing you need to think about when stocking your bug out bag.  This is where a good survival knife can come in handy.  Whether you are in the country or the city, you may have to build some kind of lean-to or something to stay dry or warm or both.  A good poncho can be invaluable to keep you dry while hiking, and with a few hacked up branches can make a decent cover for a shelter.  Of course, you could always opt for a tent as well, but this could take quite a bit of research on your part.  A tent can be rather large depending on how many people it is for.  Not to mention, they can get a little pricey.  I am keeping an open mind and an eye out for options for a tent for my bug out bag.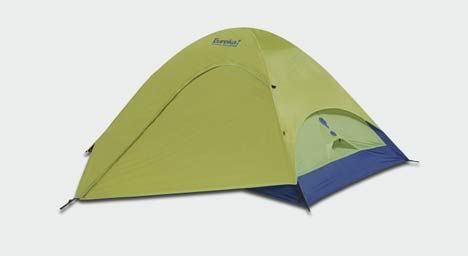 One tent that has caught my eye is the Eureka! Mountain Pass 2 XT
. It is big enough for 2 people and some gear. I have two children that are still small enough that they could probably fit in there with mom and I, so at least for a little while this would be pretty good, but I am still looking. If you do opt for a tent, remember that it is going to take up valuable space on/in your bug out bag, so it will definitely be a major consideration as far as bag real estate goes.
Rescue
So let's say you have managed to survive for 3 days with your bug out bag, and now you are starting to see firemen, or cops, or someone coming with the means for rescue.  This is pretty straight forward too…you basically need to get their attention.  Here you will need to plan for both a daylight and a night rescue, because you won't know when they are coming.
Some ideas for a day rescue are making a fire so that someone can see the smoke.  Or if time is of the essence, a signaling mirror.  A bright orange poncho can serve other purposes besides shelter or keeping the rain off of you.  It will really make you stand out in almost any environment.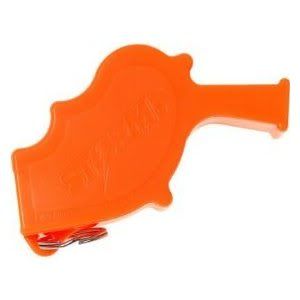 A whistle is a must have for your bug out bag as well.  If you happen to be in a situation where you can't get close enough to your rescuers for them to see you, you are probably going to be doing a lot of yelling.  This will sap a LOT of your energy and possibly make you lose your voice.  A whistle will be much louder and take less effort on your part, so be sure and pack it!
At night it will be all about lights and sound.  The whistle will be very effective here, but you will need a light for rescuers to home in on as well.  Flashlights are great and I even have a mini MagLite
that has a setting for flashing S.O.S. in morse code over and over again.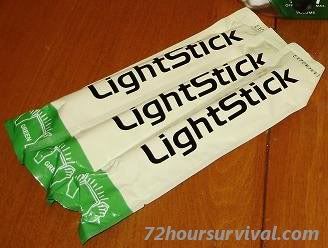 But one of my favorite things to pack for a rescue is a chemical light stick
.  Tie a length of paracord to it and spin it in a large circle and you greatly increase your visibility to rescuers.
One word of advice when dealing with rescue is to take a few moments to make sure the people you see coming your way look like they have good intentions.  If you see starving people that look desperate, you may not want to give away your location unless you have the means to help them instead.  In a perfect world, you would have nothing to worry about, but this isn't a perfect world and you are far from perfect circumstances, so just use some common sense here.
This may seem like a no brainer, but how about a cell phone?  Well, you probably have one and will most likely have it with you but did you know that that old cell phone rattling around in your junk drawer can still be used as well?  Any cell phone that can be turned on and receive a signal must be able to dial 911 according to federal law.  That means you could pack it in your bug out bag and in the unlikely event that you are in a hurry to get out the door and can't find your cell phone, you have a back-up.
Another thing you will want in your bag is a good radio receiver
.  If there is a major disaster, you are going to need to be able to hear any news that may be broadcast about locations of medical assistance, assembly locations, or possibly locations to avoid.
Now we dive into the topic of First Aid.  This can get as simple or as elaborate as you care to take it.  You may just pack a few band-aids and some medicine, or you may go with a complete trauma kit.
"AARRGGHHH!!! What do I do?!  You never know what may happen and I should be prepared for everything, so I need SAM Splints, and sutures, and chest seals, and……."  Easy there, Catfish!  Here is a good rule of thumb for packing your first aid kit;  Don't bother packing anything you aren't prepared or know how to use.  If you don't know how to treat a sucking chest wound and don't plan on learning, then don't bother packing for it.  Let's be realistic, if you aren't a doctor or don't play one on T.V., then don't plan to act like one.  You could do more harm than good.
So with that being said, what kind of stuff should you plan for?  Well, you may possibly be on foot, so plan for injuries or ailments that may occur that way.  Sprained ankles, a possible broken limb, scratches and abrasions, etc.  Your diet may change in this new event so it may be in your best interest to plan for…shall we say….digestive issues?  If you have any prescriptions that you need regularly, be sure and pack those as well.  Are you allergic to bee stings?  If so, you'd better make sure you have an EpiPen in there.
You really should join our email list and get a free copy of The Everyman's First Aid Kit.  In it, I list out everything you need for a decently packed first-aid kit.  Obviously it is just a guide as your kit should be tailored for you and your family, but it will get you off the ground and running.
It is imperative that you know or learn how to use everything in your first-aid kit correctly.  If you want to pack something and don't know how to use it, then get a book and learn, or better yet, take a class.  The things you can learn about first-aid will stay with you the rest of your life.
My first-aid kit on my bug out bag is a Maxpedition F.I.G.H.T

pack that is attached via MOLLE attachments, but depending on the size of your kit, it can be packed into the bag as well.  I like the way the F.I.G.H.T. works because it attaches to the pack securely, but can quickly be removed if necessary and taken right to where it is needed.
Weapons
Well, it's no secret that we like guns and knives here at 72hoursurvival.com!  I mostly think about handguns for a survival bag, but you will see many people attaching their AR-15 to their bag and there are many good reasons for this.

First of all, let me tell you about the AR-15 so that you can get rid of any misconceptions you may have about it right away.  Just because it is a black gun does not mean it is sinister!  The AR-15 platform is revolutionary in the way it is designed.  It has many interchangeable parts and you can custom fit it to whatever you are comfortable with.  When it boils down to it, it is just a rifle.  With the pull of two spring loaded pins, you can swap out the upper half of it for several different calibers.  Heck, I just saw in Guns & Ammo that you can even get a crossbow upper for it! But if you are new to bows then I recommend these good compound bows for beginners.  The point is, it is a very versatile platform for a rifle and if you wanted, you could have one upper for small game hunting and a separate upper for large game hunting.  I am in the country, if I had to bug out on foot, I would like to have an AR-15 if for nothing else than to have protection from wild animals.  I am in the process of building an AR-15 now, but they aren't free and money can be tight at times.  But at some point in the future, there will be a spot on/in my bug out bag for it.
Now back to handguns.  I am a firm believer in the right to carry a handgun, but I don't believe anyone should carry one without knowing how to use it and keeping their skills up at the range.  For a bug out bag, it really doesn't matter much if your handgun is a compact or a full framed pistol, but if you intend to carry it on your body you may want to take that into account.  Get one that fits your hand and you are comfortable enough in how it works, is the right caliber for you, and then practice…practice…practice.  As far as bug out bag application goes, buy extra magazines for it and stock them in your bag.  Just remember, ammo does have weight to it, so the more you plan to carry, the heavier it is going to get.
When it comes to knives, I love 'em all!  Well, most of 'em anyway.  Some stand out above the crowd a little more than others though.  The Gerber LMF II is a prime example.  This is a great all around survival knife.  It can handle just about any job you throw at it and some you wouldn't even think about!  I also like the Gerber Game Pro and have it too.  I haven't skinned any small game with it yet which is what this knife is designed for, but I have it in my bug out bag in case I need to.  I am pretty sure that Gerber has stopped production on the Game Pro so it may be hard to come by. There are other great knives that I really want to get hold of and try out, like the RAT Cutlery knives.  They have some awesome looking knives that get great reviews in real world use, but that is just going to have to stay on the wish list for now.
Some people don't feel comfortable with a firearm and don't wish to carry one and that's okay because there are alternatives to that as well.  Pepper spray
is probably the next best thing and is non-lethal.  Kimber even makes one that looks and handles like a handgun
.  I haven't tried it, but it is the same Kimber that makes the 1911 style .45 caliber handguns and I have one of those and love it.  They are top of the line in my book, so I can only assume their pepper spray meets up to the same standards.
There are other options for weapons that are a little less conventional, but please, for the love up Pete…don't get a katana!
(Sorry, just a little joke from survival forums…I couldn't resist!)
Other Tools and
Necessities
There are many other things you may want to consider putting in your bug out bag that may not fall into any of these categories.  Binoculars come to mind, as do toiletries.  How about extra batteries for flashlights, radios, etc.  Cooking utensils of some kind could come in real handy.
I like to carry a change of clothes in my bug out bag.  Clean socks, underwear, pants and a t-shirt can go a long way to making you feel better about your situation a couple of days into it!  You are probably going to have a lot of down time as well, so a deck of cards can keep the boredom level to minimum.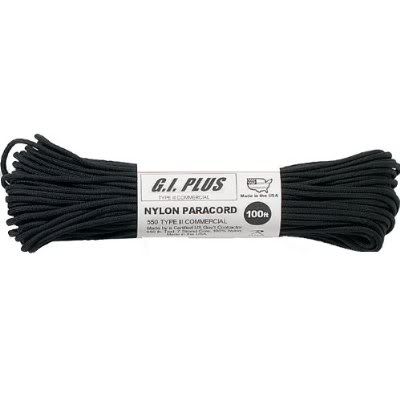 I would also put a couple of bandanas in your bug out bag.  You would be amazed at how many uses you can find for bandanas.  Also throw in about 100 feet of paracord.  That is another thing that has a million and one uses.
Just Get One Going!
Well, that is all I have for now.  I will update this page as I find more and/or better ideas for a bug out bag but this should get you well on your way to getting one going.
Let me leave you with this, though.  If nothing else, grab that Wal-Mart bag out of the cabinet, throw a couple bottles of water in it, a flashlight, and maybe a tube of crackers and start with that!  If an 8.0 earthquake hit your area right now and you had to get out fast, you can at least grab that bag and have a small meal and some light to get you through the next few hours.  They may seem like nothing now, but if that quake hit, they would be the best damned crackers and water you ever had, and boy weren't you smart for packing that flashlight?